Re-cord Migration as challenge to fight against discrimination Project
"Re–cord Migration as challenge to fight against discrimination" 
Youth Exchange under the  KA1 – Partner Countries
Partnership
ASSOCIAZIONE EVENTI D'ARTE                   Italy                               Applicant
Kalkara Local Council                                             Malta                             Partner
ASOCIACION CULTURAL DE SER                Spain                              Partner
Youth Spirit                                                                 Jordan                             Partner
ASSOCIATION DE VOLONTARIAT ET
ECHANGE CULTUREL ET ACTION DES
JEUNES                                                                         Tunisia                            Partner
NEW INTERNATIONAL COMPANY OF
LIVE ARTS                                                               United Kingdom            Partner
MUNICIPALITY OF JERUSALEM                  Israel                                Partner
SUMMARY:
The project "Re-cord Migration as challenge to fight against discrimination" is a Youth Exchange
– Partners Countries promoting by the Association Eventi D'Arte in cooperation with Partner from European Countries, Italy, United Kingdom, Spain, Malta  and Neighbours partners from South Mediterranean Regions: Israel,  Jordan and Tunis.
The main theme of the project is to fight against discrimination and marginalization stimulate creativity of youth and give them knowledge about the power of cinema and creative arts for promoting social inclusion and to fight against marginalization. The project is focused on integration and related challenges linked to the migration process, new tools and methodology among young people and NGO workers in order to strengthen the social Inclusion and peace building process in the global community.
The project content is building strong logical chain to rise up the awareness about migration and
importance of integration process for the modern society based on the philosophy of the Erasmus+ program "Building on the past experience, looking towards future".
The project's objectives are: developing the sense of social cohesion and to stimulate the
participants to reflect critically about personal and cultural identity; Encouraging active participation by constant intercultural Dialogue of participants from the European countries and South Mediterranean region; to explore ways in which participants can generate and foster a more tolerant society, in order to understand concepts such as stereotyping, prejudice, manipulation and limits of culture; to develop intercultural skills and competences related to international youth exchange, reflecting on learning using Youthpass Certificate.
Advance Planning Visit in from 6 (Arrivals) to 8 (Departures) July 2018.                                                                                1 Participant for each organization.
Youth Exchange: from 7 to 13 November 2018. –                                                                                                                                       5 Participants for each organization (4 youngsters 18-25 years + 1 group leader).
Accommodation: in Hotel Solemar in S Alessio Siculo
Le attività :                                                                                                                                                                                                                          8/11/2018 :
9/11/2018
10/11/2018 : Serata multiculturale e multietnica , in collaborazione con i partner italiani ANOLF Messina e PARCO Letterario Salvatore Quasimodo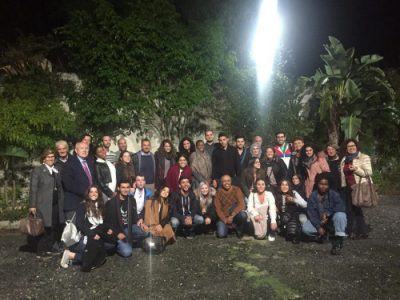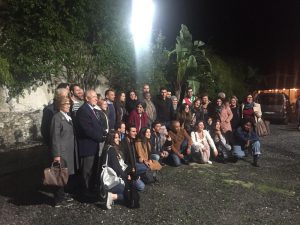 GALLERY :
Il Video